2016 Sunseeker 92' (28.15 m) Motor Yacht
Virgin Islands (US)
Refit Year: 2020 ELITE

CHARTER OVERVIEW:
Year Round Destinations: US Virgin Islands,British Virgin Islands
Year Round Rates: Call For Rates
Motor Yachts
Power
Used
Diesel
Fiberglass Hull
Vessel ID# 2780739 Last Updated: 2022-03-07 02:47:09
Guests: 10 | Cabins: 10
Call For Rates
Year Round: 01-01-2021 - 12-31-2024
Description
DISCOVER ELITE
Relax, celebrate, and enjoy life to the fullest aboard ELITE, one of the newest luxury motor yachts now available for private charter in the Caribbean. Built in 2016 and updated in 2020, ELITE offers guests a bespoke atmosphere in a fresh, modern, yet intimate setting.
Hand-pick all aspects of your vacation or let our experienced, personal Captain craft an exceptional itinerary of destinations in some of the world's most beautiful waters. Our award-winning chef will ensure your daily, personalized, fine dining options are superb and suited to all tastes.
Make your dreams a reality aboard ELITE and create memories that will last a lifetime.
LUXURY CREWED MOTOR YACHT
Built in 2016 and updated in 2020, ELITE is one of the newest luxury motor yachts available for private charter in the Caribbean. A popular Sunseeker 28m model, ELITE easily accommodates up to 10 guests in four well-appointed, comfortable staterooms. This includes a full-beam master cabin, a VIP cabin, and twin cabins.
ELITE is the ideal yacht for relaxing and reconnecting with family or friends. On the main deck, her elegant and modern interior affords a feeling of luxury and spaciousness throughout. With its floor to ceiling windows, the grand main salon includes a private dining area opening to a drop-down sea balcony, along with a full wet bar. It is the perfect place to enjoy panoramic views, unwind with a glass of vintage wine, or savor a specially prepared gourmet meal. Guests will also enjoy cocktails and hors d'oeuvres while watching spectacular sunsets, with additional dining and seating options located adjacent to the cockpit and at the bow. From intimate to ample, all seating areas aboard ELITE are designed for conversation, laughter, and celebrating life's simple pleasures.
ELITE's comfortable, exterior spaces allow numerous opportunities for recreation and leisure. Guests experience stunning open-air views of Caribbean wonders from all locations atop the spacious sundeck on the flybridge. Boasting generous seating, dining, and sunning areas, this top deck includes a second full wet bar and grill, with a retractable awning for additional shade. A prominent new hot tub melts away stress and leaves guests feeling refreshed for the day ahead. Comfortable lounge chairs appoint the decks for sunbathing and relaxation. A number of water toys are also on-board, from paddleboards and snorkeling gear, to Seabow underwater scooters. An expansive swim platform beckons all for refreshing dips in the crystalline sea or exciting water adventures.
AUDIO VISUAL
DSS satellite TV – USA/Caribbean
Control 4 Automation
Wet Sounds Audio (Multi-color LED)
Hotspot WiFi (USVI/BVI)
Laser Printer
Toys
WATER TOYS
16' Highfield Tender 70HP Yamaha
Snorkel gear
Stand up paddle boards x2
Lounge Floats, Towables, Inflatables
Sea Scooters x 4
Menu
DINING ON ELITE
As you cruise through crystal clear waters or drop anchor in a secluded cove, enjoying mouth-watering high quality, five-star cuisine is one of ELITE's greatest pleasures. Our award-winning chef will prepare gourmet meals that delight every guest while being tailored to every dietary preference, from light-and-healthy, to multi-course and divine.
Using the freshest, locally sourced ingredients, from fruits and vegetables to freshly-caught fish from the sea, Your chef will prepare and present any of your favorite hors d'oeuvres, drinks, and dishes without anyone having to lift a finger. Do you prefer breakfast in bed or a morning latte outside? Perhaps a family picnic to be enjoyed on a secluded beach or a special birthday party or theme celebration? No matter your desire, your wining and dining experience aboard ELITE will never be forgotten.
PERSONALIZED MENUS
Vacationing aboard ELITE with its menu of top-quality cuisine, tailored to your personal preferences, is an absolute treat. Our award-winning chef will whip up creative and delectable offerings suited to your specific needs or wants. From your favorite foods to any allergies or dislikes, every meal you enjoy aboard the ELITE will be crafted to your desires.
SAMPLE MENU
BEVERAGES
INFUSED WATERS WITH FRESH LOCAL FRUITS
fruit-forward and pallet cleansing with a zestful finish
PASSIONATE LEMONADE
passion fruit, lemon, lemon zest
ENERGY BOOST SMOOTHIES
kale, banana, almond butter, oat milk, chia seeds
BREAKFAST
PANCAKE BREAKFAST BOARD
pancakes, coconut flakes, nutella, banana slices, thick-cut bacon, whipped honey ricotta, assorted berries, maple syrup, assorted jams
BANANA SPLIT PARFAIT
greek yogurt, banana, assorted berries, coconut flake, chia seed, hemp seed
FRENCHMAN'S BREAKFAST
custardy french omelette, sautéed asparagus, heirloom tomatoes, toasted rosemary loaf, assorted jams
LUNCH
GREEN TEA TUNA BOWL
seared ahi tuna, sesame green tea noodles, radish flowers, shaved carrots, red cabbage slaw, cucumber coins, cilantro micros, sesame dressing
BURRATA PESTO SALAD
fresh burrata, sugar brown farm's ovation greens, prosciutto, heirloom tomato, roasted herbed purple potatoes, cinnamon basil pesto, balsamic reduction
CHIMICHURRI SALAD
sliced filet mignon, jumbo marinated prawn, avocado quinoa salad, chimichurri, watercress
BEEF BARBACOA TACOS
slow cooked beef brisket, shaved jalapeños + radish, pickled red onion, micro cilantro, cotija
DINNER
SURF N' TURF
locally caught Caribbean lobster half tail, filet mignon, smoked gouda grits, asparagus, blistered cherry tomatoes, herb compound butter, whole grain mustard hollandaise
SHORT RIB RAVIOLI
red wine braised short ribs stuffed, parmesan, red wine mushroom cream sauce, fresh basil
SEARED ONO
fresh caught local ono, honey soy sautéed bok choy, papaya salsa, ginger sesame purple mash, cilantro creme, radish
LAMB
Pistachio crusted rack of lamb, cauliflower puree, roasted heirloom carrots, cherry cabernet sauce
DESSERT
BLOOD ORANGE CHOCOLATE MOUSSE
fresh-squeezed blood orange juice combined with rich dark chocolate + smoked sea salt
DRAGON FRUIT PANNA COTTA + PINEAPPLE POLLEN
award-winning dessert renews an old classic with a fruit-forward rendition
GALETTE
Sugar-dusted berries wrapped in a buttery crust a la mode
Crew Members
Gustavo Bolanos
Captain
U.S. Coast Guard 200 Ton Master License |19 years of yachting experience11 years of Virgin Islands-specific boating experience20,000 plus nautical miles logged |Seafarers International Union (SIU) member |Captained yachts and sport fishing boats in the Bahamas, Florida, Gulf of Mexico, Central/South America, and the Caribbean |(Florida)
Gustavo Bolanos
Captain
U.S. Coast Guard 200 Ton Master License |19 years of yachting experience11 years of Virgin Islands-specific boating experience20,000 plus nautical miles logged |Seafarers International Union (SIU) member |Captained yachts and sport fishing boats in the Bahamas, Florida, Gulf of Mexico, Central/South America, and the Caribbean |(Florida)
Gustavo Bolanos
Captain
U.S. Coast Guard 200 Ton Master License |19 years of yachting experience11 years of Virgin Islands-specific boating experience20,000 plus nautical miles logged |Seafarers International Union (SIU) member |Captained yachts and sport fishing boats in the Bahamas, Florida, Gulf of Mexico, Central/South America, and the Caribbean |(Florida)
Jonathan Hardin
First Officer
U.S. Coast Guard 100 Ton Master License with towing and sailing endorsements |Maritime experience of more than 10 years |11 years of Virgin Islands-specific boating experience |PADI Divemaster |Professional Bartender |Winner Best Rum Cocktail 2020 / VIPCA Competition |(S. Carolina)
Jonathan Hardin
First Officer
U.S. Coast Guard 100 Ton Master License with towing and sailing endorsements |Maritime experience of more than 10 years |11 years of Virgin Islands-specific boating experience |PADI Divemaster |Professional Bartender |Winner Best Rum Cocktail 2020 / VIPCA Competition |(S. Carolina)
Jonathan Hardin
First Officer
U.S. Coast Guard 100 Ton Master License with towing and sailing endorsements |Maritime experience of more than 10 years |11 years of Virgin Islands-specific boating experience |PADI Divemaster |Professional Bartender |Winner Best Rum Cocktail 2020 / VIPCA Competition |(S. Carolina)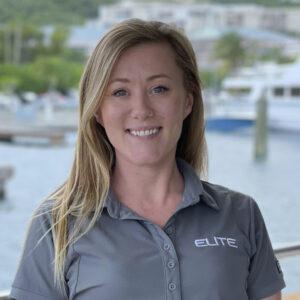 Katie Saunders
Chef
Award winning Luxury/Superyacht Chef |8+ years of culinary experienceSous Chef aboard yachts based in the Bahamas, Florida, Mexico, and the Hamptons |Culinary Competition Virgin Islands Professional Charter Association |Winner Best Dessert 2020 |Runner Up Best Entrée 2020 |Honoree Best Dessert 2018 |(Virginia)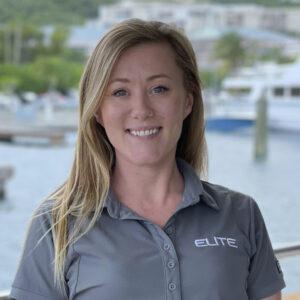 Katie Saunders
Chef
Award winning Luxury/Superyacht Chef |8+ years of culinary experienceSous Chef aboard yachts based in the Bahamas, Florida, Mexico, and the Hamptons |Culinary Competition Virgin Islands Professional Charter Association |Winner Best Dessert 2020 |Runner Up Best Entrée 2020 |Honoree Best Dessert 2018 |(Virginia)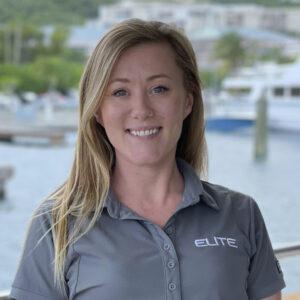 Katie Saunders
Chef
Award winning Luxury/Superyacht Chef |8+ years of culinary experienceSous Chef aboard yachts based in the Bahamas, Florida, Mexico, and the Hamptons |Culinary Competition Virgin Islands Professional Charter Association |Winner Best Dessert 2020 |Runner Up Best Entrée 2020 |Honoree Best Dessert 2018 |(Virginia)
Specifications
LOA: 92' 4'' (28.15 Meters)
Type: Power- Used
Year: 2016
Refit Year: 2020
Beam: 21' 4''
Draft Max: 6' 9''
Cabins: 4
Sleeps: 10
Double Berths: 2
Queen Berths: 1
King Berths: 1
Full Beam Master: Yes
Convertibles: 1
Crew Sleeps: 4
Maximum Speed: 32 Knots
Fuel Type: Diesel
Hull Material: Fiberglass
Air Conditioning: Yes
Stabilizers: Standard
Builder: Sunseeker
Engines
Engine 1
Engine Make: MTU
Engine Model: 2000
Engine Location: Starboard
Engine 2
Engine Make: MTU
Engine Model: 2000
Engine Location: Port
Contact Us